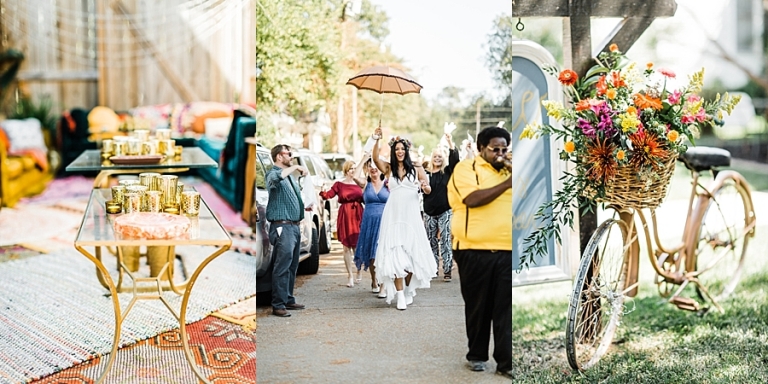 Our wedding investment is $3000 plus sales tax.
$450 retainer will reserve your wedding date and be deducted from your total.
We're with you the entire day, 7-8 hours.
We photograph every little detail from start to finish.
Everything you knew about your wedding day, we've got it.
You will receive your edited wedding collection
through an online gallery where you can
download, view, purchase and share as many as times you would like
as well as inviting family and friends to view your collection.
These images are high-res which will assure great quality for printing!
Upon receiving your gallery you will also get 1 wedding album
that will tell your story perfectly time and time again.
Additional pages can be added at an additional charge.
A Bridal&Engagement session is included as well.
The Engagement session will allow us to get to know one another
so on the wedding day we are all familiar with
how one another works with and in front of the camera.
This is also the perfect time to create additional timeless images
to display in your home and look back on during all of the engagement bliss!
The Bridal session will allow you to have a trial run with
your hair and makeup artist before the big day.
It also allows you to work with your florist to
perfect that dreamy bouquet you have always imagined.
Upon booking, we will schedule a one on one meet-up
to chat about your day and answer any questions or concerns you may have.
From vendors, travel, the contract, what to expect on the wedding day, products, etc.
All of this can be overwhelming and I love to help make everything run smoothly!
Throughout the planning process we are always here to answer any questions
or have additional meet-up's when approaching your wedding day.
Lucky you!
You will not only get Nikki Bardwell as your photographer
but an additional one on your big day to capture your story as well!
That's two pro photographers!
Travel:
NBP does travel. We love to travel actually!
We can chat about travel fees if interested.
Additional time can be added upon request.
Given our experience and countless weddings,
we feel 8 hours is plenty of time to capture your day.
We will help with your timeline to make that happen.
But, we are opened to additional time if needed.
We invest a lot of time within our clients. We are always here to answer any question,
give a pep talk or even just to chat! By the end of the total process a friendship is gained
and memories are made!
**Please visit my contact page for additional lifestyle session inquires**